Related Links
Nearby attractions
This farmers' market is among the oldest consistently operating markets in Canada. Its vibrant colours, fresh-from-the-field produce, lively chatter and friendly faces have been enjoyed by residents and visitors to the area for more than 130 years.
Get Closer Than You Ever Imagined to majestic lions, giraffe, cheetah, rhino and over 1,000 other exotic birds and animals from around the world!

Mohawk Racetrack is a harness racing track in Campbellville, Ontario. It is owned by the Woodbine Entertainment Group, formerly the Ontario Jockey Club. The track opened in 1963 by the then Ontario Jockey Club.
Flamboro Speedway is a 1/3-mile semi-banked asphalt oval auto racing track in Hamilton, Ontario. The track was established in 1961.
Over 200 vendors offering a unique selection of china, glassware, collectibles, furniture, art, primitives and nostalgia

From the starting gate to the finish line, flamboro downs presents a unique and entertaining outing for individuals and groups alike. Set on 220 acres on Highway #5 west, between highways 6 and 8, flamboro downs has grown substantially since its April 1975 opening.
One of the Hamilton Conservation Authority's two Millennium projects, this 22-kilometer trail in Flamborough will link the Dundas Valley, Christie Lake, the provincially significant Beverly Swamp and Valens Conservation Area.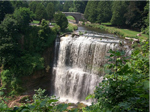 Spencer Gorge / Webster's Falls
From the escarpment brow, noted for its panoramas, to the forested depths of the gorge below, the Spencer Gorge/Webster's Falls Conservation Area exhibits the physical features which have made the Niagara Escarpment one of Ontario's most spectacular geological formations.
Other Retailers
Woodland Park
General Coach Canada
Georgetown RV
Park Model Living

Access Camping

H&H Patio Enclosures
Explorer RV Club
Owasco for RV Rentals
We are Proud Members of:

Camping in Ontario (OPCA)